5 Kinky Sex Roleplay Ideas to Really Spice It Up in the Bedroom
Try amazing sex games with your partner on V-day!
---
How to pump up your sex life on Valentine's Day? What are the best sex ideas for couples to try in the bedroom?
No ideas for Valentine's Day gift? We've got you covered. Try out a kinky roleplay game! ;)

Why is roleplay important? Roleplay games are a fantastic way to explore your sexuality and creativity and add some fun to your relationship.
Whether you're just getting started with roleplay or looking for something new and exciting, here are five of the best sex roleplay games you can try on Valentine's Day.


So, how to roleplay? Let's review the best ideas!
1. Doctor-patient
It's one of the most popular sex roleplay games. In this game, one partner is the doctor and the other is the patient. The doctor asks questions about the patient's health while they undress each other, exploring all areas of their body as they go.
As they progress, they become more intimate with each other and can decide how far they want to take it – whether that be talking about fantasies or actually engaging in sexual intercourse. This game can be incredibly fun and exciting when done right!
Ready for more?
Take your sex life to the next level with our sex courses!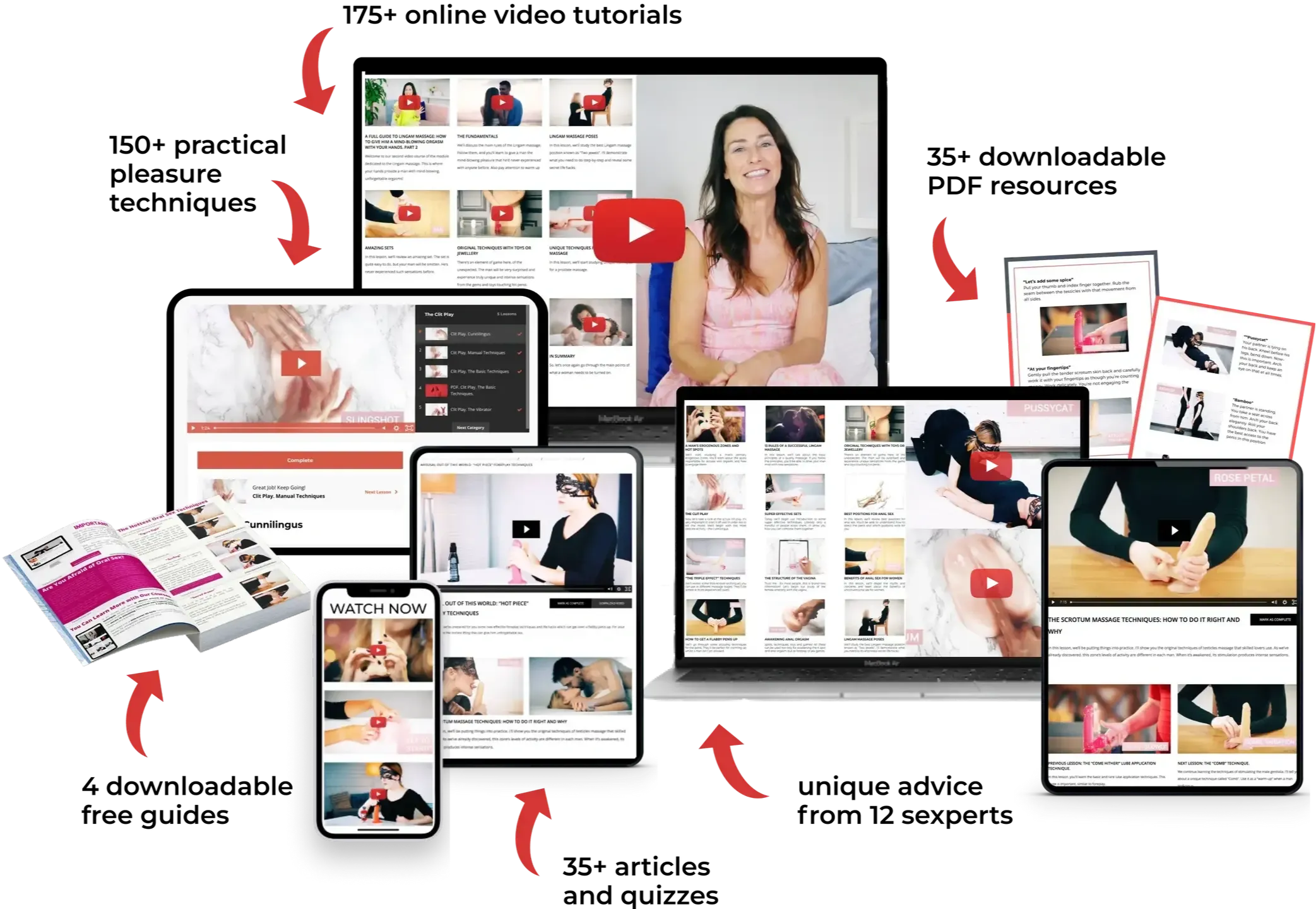 These fun and engaging video classes are designed to help you become an expert in all things sex ;)
Learn how to express yourself more fully, cultivate a deeper connection and discover pleasure that will last a lifetime.
Sign up today and get your 14-day All-Access Pass for $1 only!
Click here for more.
2. Teacher-student
This is a very hot scenario. One partner takes on the role of a naughty student while the other becomes an authoritative figure – think sexy school teacher or stern principal. Depending on how raunchy you want to get, you can use various props like rulers or desk bells to enhance this scenario.
The naughty student may be instructed to do various tasks that involve touching or exploring each other's bodies – again depending on your comfort level – before finally being rewarded with something special like extra credit or a detention pass!
3. Dominatrix/submissive game
If you're looking for something even more risqué than doctor-patient or teachers-students scenarios, then why not try out a dominatrix/submissive game?
How to play this roleplay? ;) Here, one partner takes on a dominant role while the other assumes a submissive one – sort of like consensual power play. With this game, anything goes – from spanking sessions to humiliation play – but make sure that both partners know what their limits are beforehand so everyone has an enjoyable experience!

4. Games with historical costumes
For those who enjoy some history with their sexy roleplaying games, why not choose historical costumes? If you want to stay within Valentine's Day themes then maybe go for something along the lines of Cleopatra and Mark Antony?
Or perhaps two knights from medieval times fighting over maidens? It could be incredibly fun (and educational) dressing up in period costumes and acting out scenes in historical settings – there are endless possibilities with this one!


5. Fantasy characters
Finally, if you'd like something truly unique for your Valentine's Day sex roleplay then why not try out some fantasy games?
For example, imagine one person taking on the part of an elf queen while their partner plays an adventurous knight sent off by his king to rescue her from danger. Fantasy worlds provide lots of room for creative expression so let your imagination run wild!


No matter what kind of sex roleplay games you choose to play on Valentine's Day, remember that communication between partners is key for any successful session.

Talk through what kinds of activities feel comfortable for both people involved before jumping into anything too intense! With these tips in mind, let your Valentine's Day spark something new and exciting between you and your partner this year!
---
Ready for more sexy fun? Get access to our courses now for a Special Limited-Time Price - 14-day All-Access Pass for $1 - and pump up your sex life!
Explore our most popular courses:
Get it now and become a confident, amazing lover!
About the author


Olivia Roberts
Certified sex therapist who assists couples in supporting the growth of their sexual connection.